HMIS is an abbreviation for Health Management Information System. The ministry of Health(MOH)  with her implementing partners(IPs), came up with a way to get more meaningful information from all health care providers in the country. 
This is done currently using HMIS reports. With the reports, are numerous HMIS tools and these are categorised into; Anaesthesia tools, Inpatient tools, imaging tools, OutPatient Department (OPD) tools, Rehabilitation tools and surgery tools. Under each category is a list of necessary HMIS reports which are submitted to the ministry of Health on a monthly basis. 
All health facilities in Uganda are required to fill and submit weekly, monthly, quarterly and annual reports about their health care service delivery to the Ministry of Health and IPs. The reports are generated by data clerks through a process of tedious tallying using manual paper tools which results in largely inaccurate, incomplete reports that are often submitted past the set deadlines. Some of the reports are listed below:
HMIS 033b_HEALTH UNIT WEEKLY EPIDEMIOLOGICAL 

HMIS 097b VHT ICCM QUARTERLY SUMMARY

HMIS 105 Health Unit Outpatient Monthly Report

HMIS 106a HEALTH UNIT QUARTERLY REPORT

HMIS 108 Health Unit Inpatient Monthly Report

HMIS ACP 011 CCLAD REG ksl2019

HMIS ACP 002 -VL & HIVDR REQUEST FORM ksl2019

HMIS ACP 003 HIV CARE ART CARD

HMIS ACP 004 COMPREHENSIVE REFERRAL LINKAGE FORM ksl2019 

HMIS ACP 005 ART REGISTER ksl 2019

HMIS ACP 006 PATIENT APPOINTMENT BOOK 

HMIS ACP 007 MISSED APPOINTMENT TRACKING REGISTER 

HMIS ACP 008 Comprehensive ART Transfer form 

HMIS ACP 012 COMMUNITY DRUG DISTRIBUTION POINT (CDDP) REG ksl2019

HMIS ACP 014 EARLY INFANT DIAGNOSIS (EID) REQUEST FORM ksl2019

HMIS ACP 015 EID CLINICAL CHART

HMIS ACP 016 COMPREHENSIVE CARE - PATIENT CARD

HMIS ACP 017 EID REG

HMIS ACP 025 POST EXPOSURE PROPHYLAXIS REGISTER ksl2019
All these reports include important information about Out Patient Department attendances and diagnoses, Maternal Child Health (MCH), HIV/AIDS service data, lab data, stock outs of essential drugs and supplies and financial data.
The Current process of collecting HMIS data is as below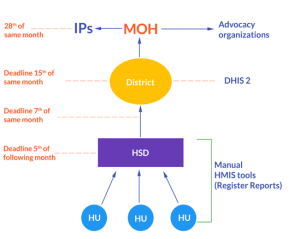 HU
:
Health Unit
,
HSD
:
Health Sub District
District
:
District does the final
submission     
Challenges with HMIS manual reports:
Inaccuracies due to human error

The process of tallying is tedious as the categories to report about are too many

Backlogs causing late submissions of reports are also very common occurrences.

Errors in collection of data. Due to the workload of the staff who are also the designated data entrants in the huge collection books, some cases are not entered in the collection books giving inaccuracies at the end of the day.

Human limitations. Transport, health, pandemics, character and work strikes have a huge effect on the quality of data collected.
Solution with Stre@mline 
With Stre@mline, an Electronic Medical Records (EMR) Platform, HMIS reporting has never been easier! The system is integrated with all the Ministry of Health standard reporting forms. There is no need for manual tallying as every patient is captured in the system and their data will be automatically categorised to suit whichever report needs to be generated and submitted.
The system will compile all data from the different specialised clinics, the In patient Department and the Out patient department as well to come up with a well rounded report. The benefits of using Stre@mline in HMIS reporting are numerous. Below are few to consider:
100% accuracy in the reports: the reports will clearly reflect the exact image at the health centre and help MOH and IPs make informed decisions.

Timely reports: Do you know with just a few clicks your entire HMIS report will be ready for submission to MOH and IPs?

Complete reports: The report will capture all data in the specified period and not just sample the data

Machines are not limited to human error and therefore present more reliability

No increased costs in reporting since the reports are generated offline and only require internet with submission as is with the regular manual reports.

With Stre@mline, HMIS reports the work of the data clerks is improved, simplified and made easy. The process is no longer tedious in fact they can relocate their workstation to the data entry to ensure the data entered in the system is the one they require in their reports.
Stre@mline! We take care of data so medics can take care of patients!